In today's overweight world, Michelle brings a message of positive change and compassion with unique style and infectious enthusiasm to propel people – no matter what their age, gender or income – towards healthier and more active lifestyles.
Michelle has always believed fitness is for everybody, everywhere and her broad range of exercise DVDs give everyone the opportunity to get fit right at home!  You don't have to have a gym membership, or even leave your front door – get fit with Michelle in your lounge room and reap the benefits of a healthy body today.

FOODFOR LIFE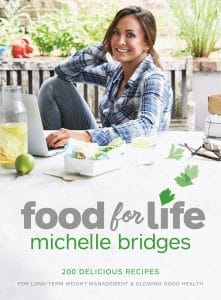 OUT NOW
Michelle Bridges is passionate about health – her health, your health, our health. In Food for Life, Michelle shows us how to cook for a lifetime of wellbeing and fitness, and reminds us that we each have the power to choose better health through our food.
Read More
Australian Institute of Fitness